View this sample edition! It's a back issue (October, 2023), but still hilarious! Order the current issue here, or better yet, subscribe! (See below for detailed viewing instructions).
Click on image to view recent back issue in "Flip Page" format. Please be patient, large file – full of high-resolution cartoons for your viewing pleasure! Or download PDF directly (view with Adobe Reader):
(After viewing, let us know how you liked it!)
Viewing instructions. There are two ways to view this sample issue:
First, decide if you'd like to view in "Regular" or "Device" mode, and click the button if you want to change it. Regular View is a nearly exact replication of the printed publication, and is probably the best choice if you are viewing on a desktop or laptop computer. Device View is optimized for tablets and phones, with the cartoons displayed singly, filling the screen as you swipe through the edition, instead of several to a page.
Once you've chosen your viewing mode, there are two ways to view each: via flip page or by downloading: see below for details. (Either way, please be patient while it downloads/opens, as it is a large file, typically 12-17 megabytes – full of high-resolution images for your viewing pleasure!)
Share this Free Sample page!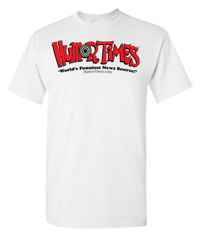 FREE T-shirt with any two-year or longer print or digital subscription! (Offer good for USA shipping addresses only.)
*Indicate your size preference in the form's "Please tell us how you found us" field. If no size is indicated, we will attempt to contact you. No exchanges.
*NOTE: Specials on this page are for new subscribers only.
The Humor Times magazine is "The World's Funniest News Source" – reviewing the news each month in hilarious fashion! Since 1991, this hard-hitting political satire monthly has featured the very best in comically irreverent takes on the news, politics and media celebrities.
Peruse a free sample back issue on this page (see below to get the current issue). View it in "flip page" format, or download the PDF file to your computer or device. (Be patient, it's a large file – full of high-resolution cartoons for your viewing pleasure! See viewing instructions below, or just click on the image.)
After enjoying this free back issue, why not SUBSCRIBE? That way, you'll be sure not to miss out on any of the fun! Get every hilarious issue of the Humor Times at our ridiculously low rates!
Or order the current issue (digital or print) or a free print sample (you'll get the upcoming issue – S&H charges apply). Or try a 3-Issue Free Trial Subscription! (Digital Free Trial available anywhere, while the Print Edition Free Trial is only available in the USA only.)
Regular rates are: digital edition (like the sample issue below), just $9.95 a year (or less with auto-renew); hard-copy edition, mailed right to your door, only $27.95 a year (or less with auto-renew – includes access to the digital version as well).
As always, please share the Humor Times with everyone you know who appreciates political humor!